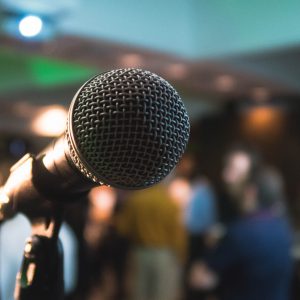 The Expo Wizard platform has been around for a few months now, and as you know we don't sit back and rest. So it's time to share some new and exciting features that we added just for you.
Expo Wizard – now in Hebrew too!
The Expo Wizard platform was all in English until now, but it's available in Hebrew too as of December.
What do we mean? All of our existing features – registration, event content, broadcasts, exhibit pages, and our community pages are fully translated into Hebrew.
Our main goal by developing this feature was to provide a better experience for the Israeli audience attending virtual events and conferences.
The easiest way to decide whether your event should be in Hebrew or English is to think about your target audience:
Who are they?
In which language should you approach them?
Are they mostly Israeli?
The choice is in your hands.
E-Poster presentations
Another addition to the platform is the option to display E-Posters on our virtual events, which gives you the option to showcase revolutionary and innovative research.
Each E-Poster is displayed separately, and you can browse easily and search for content by keywords or by authors.
Moreover, the authors are linked to each poster and you can contact them directly on the platform in order to get more information about their research.
Surveys during broadcasts
We thought about how we can help you maximize the virtual event experience, so your participants won't feel as distant from you. For this, we added the option to create a survey during your broadcasts.
The surveys strengthen the audience engagement and it makes active viewers instead of passive viewers.
In each broadcast, you can add a couple of survey questions of your choosing. This will allow you to understand your audience better, what they like, what they wish to know, and much more.
Sponsored broadcasts
Don't worry – we didn't add any commercials or anything like that to the platform. However, we did give you the option to give your sponsors a prime location on the platform, as they are a big part of your event.
For that reason, we added the option of sponsorship in the broadcasts. Meaning – you can add your sponsor's logo to a broadcast, and it will appear just below the video during the whole broadcast.
Live Q&A – now also in writing!
Usually, during broadcasts, we give the participants an option to submit questions to the host, that a  lot of the time answer them verbally during a live session.
However, many times the broadcasts are pre-recorded, or simply you don't have the time to answer all the questions during your live session.
That is why we give you the option to answer everyone in writing, with no time or space limit.
This way we also prevent a situation in which not all the participants get replies, which in turn can only improve their event experience.
Do you have any questions about our new developments or ideas for new features? Please let us know!Expo Wizard – הפתעות וחידושים שפיתחנו בשבילכ