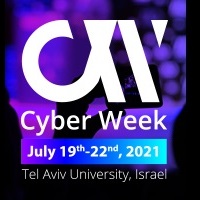 The annual Cyber Week 2021, which is being held for the 11th year under the leadership of the Belvatnik Cyber Center and the National Cyber System, brings together every year cyber experts and leading researchers from Israel and the world, policymakers, security personnel from Israel and the world, diplomats and heads of international medical and film corporations. Among the speakers are Naftali Bennett, Israel's 13th Prime Minister, and Israel's Defense Minister Benny Gantz.
This is the third time we are collaborating with the Cyber Center, and for the first time, following the changes to COVID-19 regulations, the conference is held in a hybrid format, according to which the conference is conducted at Tel Aviv University while broadcasting content on our virtual platform simultaneously.
For this conference, we provided a variety of services and products:
A virtual event platform on our Expo Wizard platform
First, we set up a full virtual event platform, in which all the content related to the event appeared: the agenda, list of speakers, three virtual exhibitions, B2B area through which participants could chat and coordinate meetings, VOD library, and more.
All content has been regularly updated by us and by the Cyber Center staff, who have done a great job in operating the system independently.
Event registration, access control, and name tags
Registration for the event was done directly on the virtual platform, with access control and name tags printing onsite using the same data. The large number of event participants required early preparation on behalf of all parties involved in the production to ensure a pleasant check-in experience.
Mini-events that monitor the participant's attendance at selected locations
"Mini Events", one of our unique features, allows you to manage access control to specific locations at your event. This is often important for event organizers who wish to know accurate data on the attendance at certain activities, their popularity, and so forth.
So how does this work? Upon the arrival of the participants to these selected locations, their name tags are scanned, and the attendance information is kept within our system – so it's quick and easy to operate.
Quick lead gathering from event visitors
During the event, several companies were present on-site and were in direct interaction with the participants. To make the communication process between them more efficient, we have enabled gathering leads directly by the company representatives at their booths.
Leads are collected by scanning the personal barcode printed on the name tags of all the participants in Cyber Week. The scans themselves were performed using the representative's smartphones, who at the end of the event, received all the lead data in an Excel file.
Here are a few photos from cyber week 2021: