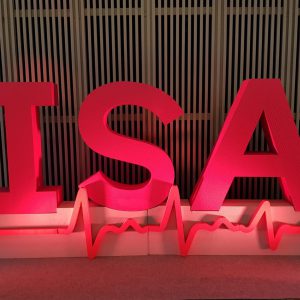 The Israeli Society of Anesthesiologists Conference will be held on November 28-29 at the Hilton Hotel at Tel-Aviv.
Leading lecturers from Israel and around the world will attend the conference. The conference will also host an exciting exhibition that will showcase the most innovative medical equipment available in the country. In addition, the conference will also include a large number of workshops on a variety of topics such as using ultrasound for critical patient evaluation, breathing and airway management, familiarity with anesthesia equipment, brain monitoring and simulation in midwifery, and more.
At the conference, interns and experts will also present ground-breaking research work via digital posters on our PosterPro system.
Digital posters make it possible for you to expose your conference participants to exciting new research and developments interactively and appealingly.
The poster collection itself is done befoe the conference with the help of the Forms-Wizard system. There a special form is created for collecting abstracts and posters from the participants.
Our digital poster system allows you to:
Display professional posters on large screens at events.
Use your event branding as part of the system design.
Browse and navigate between posters easily during the event.
Search for specific posters by subject or author name.
Download the posters to view them even after the conference is over.
Contact us for more details about the PosterPro poster system
Let us not forget that for the conference, a professional and impressive conference website was also set up. It includes all the details about the lecturers, workshops, sponsors, the conference location, and more.
You are welcome to see for yourself the Israeli Society of Anesthesiologists Conference website!
Conference organizers: The Israeli Society of Anesthesiologists Conference
Production Company: Kaleidoscope
Photos: Reg In, Management and Registration